About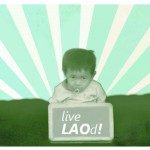 Thank you for checking out liveLAOd.com!!
My name is Jot – aka Cubiclejot. I spend most of my time in the office cube dominating spreadsheets and killing the 10 key, but when I leave the office, I Live LAO'd!
I believe that we are multidimensional, incorporating our daily grinds and American culture with traditional Lao ways. Through this site, I hope to share my thoughts about what it means to be a multidimensional Lao American.  To say it another way, I want to share my padek (Lao fermented fish- fish sauce) with you.   And if my padek stinks, let's talk about it and learn to love and Live LAO'd!