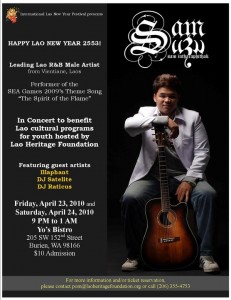 Lao Heritage Foundation is holding a Fundraising event April 23rd and 24th.  I am planning to attend so  hope to see you there!  Below is an e-mail sent to me from my boy Ek. He did such a great job hyping up this event that I just copied and pasted his e-mail below.
Let's make a difference in year 2553!!! Happy New Year!!!
I wanted to invite you all to come out and help support the Lao Heritage Foundation THIS Friday and Saturday from 9-1am at Yo's Bistro in Burien, WA!!! This will be a two night fundraising event both Friday and Saturday April 23rd AND 24th for a very, Very, did I not say VERY good cause! Bring your fun face sucka's and your fat wallet in support of YOU, ME, THEM, US, LAO!!!
By the way, did I mention it's a CONCERT!!! Come check out some serious local LAO artists doing there thaaannngg!!! We Got DJ Satelite spinning Friday Night! DJ Raticus Saturday and Illaphant with his poetic flow speaking the truth! And we ain't even done yet! Headlining the show will be SAM Intharaphithak straight from LAOS. Come check out this Lao dude with a very soulful voice. Did you know he opened up the SEA Games for Laos! WAIT!!! I ain't done yet! I forgot to mention that all these artists are doing so out of the goodness of their heart! PRO-BONO!!! NOW THAT IS SUPPORT!!!
Proceeds from RAFFLE and $10.00 Cover goes directly too LHF. As many of you may know already, Lao Heritage Foundation (LHF) is a non-profit 501c3 organization to help perserve and promote Lao culture through the arts! You can check them out at: http://www.laoheritagefoundation.org/ for more information.
Yo's Bistro
205 SW 152nd St, Burien, WA 98166
(206) 244-4084