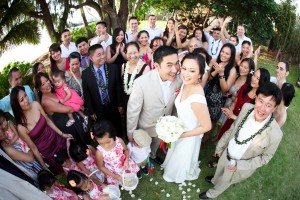 I'm back and happy to announce that I am now a married man! A few blogs ago I was contemplating a big Lao wedding or a tropical beach wedding. We ended up going with the tropical beach wedding in Maui and are so happy with our decision. If I had a word to describe the day I would say, "magical". Aside from the power outage two hours before our wedding everything went better then planned.  We were truly blessed that day, surrounded by loving family and friends. We could not have asked for a better wedding.
As the festivities were going on I stepped back to take in the moment. I glanced over the crowd and I thought to myself wow, how far we had come. I was looking out at 3 generations of our family all laughing, dancing and having a good time on a Maui beachfront property with beautiful waves crashing in the background. What a huge contrast from where our family started in this country.
My family immigrated to the US in 1982 and we started out living in a two-bedroom apartment. The three older girls that were in their teens shared one room (my sister, and two cousins) the other room was shared by my parents and the younger kids (my brother, my sister and myself). So eight people in a two-bedroom apartment, can you imagine? This was where our American dream began……(For another blog).
Without going into great detail of my family history I just wanted to say how grateful I am. At one point during the wedding I got this proud feeling about myself, "I made all this happen!"  I actually pulled off a destination wedding in Maui!  but then I saw my smiling parents and realized that they are truly the ones that made everything possible. Every accomplishment, every opportunity, everything I have in my life is due to the sacrifices and struggles made by them. All the parents and grandparent that made that leap of faith and immigrated to the US deserve so much credit for all they have done.
Live LAO'd,
Jot