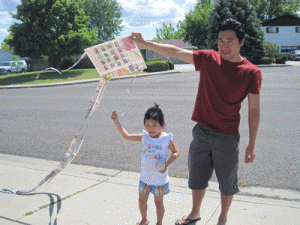 As first generation Lao kids growing up, our parents weren't able to provide the latest toys or video games, so we learned to improvise and created activities and toys of our own. My older brother was always the mastermind behind every game and activity. One of these activities was making home made kites out of newspapers, usually the free Giant Nickel advertisement paper. These kites my brother used to make, in my memory flew so high that you could almost lose sight of it in the sky.
Over the weekend on my visit back home I asked my brother the mastermind behind all things fun now turned Engineer, if he could make a kite for his 4 year-old daughter. I wanted her to experience one of my fondest memories as a kid and secretly I just wanted to run around and fly our cool homemade Lao kite.
Being the younger brother my role has always been to assist in the making process. Hold here, cut there, get this, and get that and now 25+ years later, guess what I had to do during the kite making process.….. hold here, cut there, get this, and get that. This time around though I got some help. My little niece got to share the assistant kite making responsibilities with me and she did an awesome job.
I posted a few photos to give you an idea of how to make your own homemade Lao Kite! This is a great activity to do with your family, while creating some lasting memories. If you want more instructions and step-by-step photos let me know, I just didn't want to fill the whole page with photos.
I would love to see what you guys make so feel free to share your kite photos here at liveLAOd.com!  Also you guys might ask why I call this a Lao kite.  If you're up for the challenge don't use any tape but instead sticky rice to hold the kite together!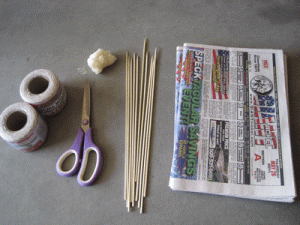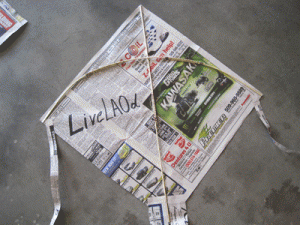 live Lao'd,
CubicleJOT