Flight 1834 2:42PM EST
Another glorious day for flying, I find myself somewhere over the Midwest at the moment. One may think that because I'm on the road so much for work, that I would want to stay home and relax for my vacations and holiday. The answer? Hell mutha'fuck'n no!  Though I love my home in the Pacific Northwest, there's still so much to see, do and eat in this lifetime.  Every couple of years I try to do one big trip.  A couple of years ago my destination was to Peru and Chile.  Peru primarily to see, live and breathe the mystere of Macchu Picchu and Chile to pretty much eat, drink (lots) and snowboard J.  If you ever get the chance to see one place before the wheels fall off in this so called life, I recommend that one place to be Macchu Picchu, see below.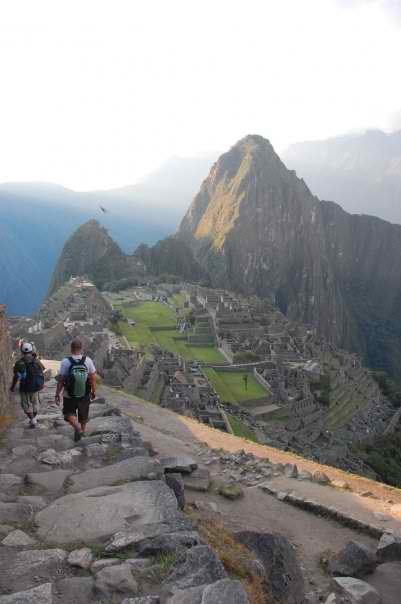 So is it's about that time again, time for a big trip!  This time, I'm taking it back to the roots. I think "who you are" can be defined and traced back to where you came from (if you don't you must not have  a brain).  So here I am, two weeks away and counting down to a backpacking excursion through Southeast Asia to visit Thailand, Cambodia, Vietnam, Laos and Hong Kong.  Ok… maybe embellished a little, I'll be in hotels and not shooting tents or anything, but I'll still only have one backpack for the entire trip, so TECHNICALLY I'm still "backpacking"… right?
This won't be my first time back to the motherland.  My first time was about 10 years ago, the country was so fresh and foreign to me.  That was one of the first place I've been where 99% of people where not white!  Add in the lack of infrastructure, conveniences and poverty at every turn of the head, and well to say the least, culture shock!  This time though… this will be a different.  There will be no hesitation to explore all, eat all, just experience all.  I'm sure the country has changed a bit over the years and become more of tourist hot bed, which isn't a bad thing.  But at the same time, I still kind of like the idea of Laos being a bit unknown and mysterious.  I'll be really looking forward to see how the country has development.  I'd also like to think that I'm a little older/wiser and would think I'll appreciate the little things a bit more.  The little things such as playing with my little cousins and spending some time my grandparents while they're still here. 
So stay tuned and come back for some updates and stills! And what's with this goddamn turbulence?!?