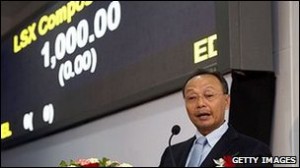 Laos is Capitalist Communist!!! Can I say that? Does that even make sense? It's kind've a contradiction, but what does make sense is that this new venture is money in the bank…literally. Lao Securities Exchange (LSX) opened this Tuesday January 11th with two stocks making its debut; the state enterprises Banque pour le Commerce Exterieur Lao (BCEL) and EDL- GEN, a unit of energy supplier Electricite du Laos. Laos is hoping to add 5 more companies on its exchange this year.
For peace of mind to folks interested in the Lao Securities Exchange. Companies that list on the exchange are required to have an external audit for the past 3 years and need to setup a structure for management and marketing. This is a good move away from the traditional way of doing business in Laos, little or no regulation.
The LSX project has the help of the World Bank as well as the Asian Development Bank, which is providing Laos with financing. Both the World Bank and the Asian Development Bank are optimistic that the new stock exchange will generate billions of dollars, which can be invested to improve Laotian schools and health-care facilities.
http://www.bbcnews.com
http://www.bloomberg.com
liveLAO'd,
CubicleJOT