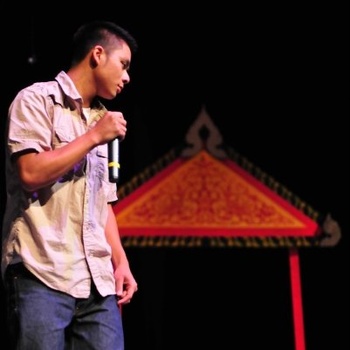 There are a lot of musicians out there trying to make a name for themselves. Most just don't stand out, but then there are a select few that come along who have that extra something, a magnetic presence that grabs your attention. During a fund raising event I put together, I met a young artist that has this extra something. If you don't already know him, I would like to introduce you to Tony Innouvong aka Illaphant. Heres what Illaphant had to share with us when asked a few questions.
1. What are you currently active in?
I am all over the place! I currently direct Freshest Roots; doing outreach, networking, and event organizing. In addition, I am an MC, writer, spoken word poet, and teaching artist. I teach creative writing and spoken word classes at Tyee Educational Complex and Jefferson and Southwest Community Center in Seattle. When I find free time, I grab a pen and pad and some beats and write my heart out. One of my projects right now includes my first album which I hope to release by summer of 2011.
2. What do you want to achieve through your art?
As an MC, writer, and poet, my ultimate goal is to share my story. If at the end of the day only one person who listens to my message walks away with something, my duty as an artist has been fulfilled. I create art out of love and interest for art rather than the love and interest of money.
3. What does Living LAO'd mean to you?
Living LAO'd to me means to speak up and speak out; to learn and understand where I am from and share that with the people in my community. Living LAO'd is a way of life and that way of life if supported by my hunger and drive to make a difference.
If you like what you see and want to hear more from Illaphant checkout these links.
http://illaphant.bandcamp.com
www.myspace.com/illaphant
facebook illaphant
liveLAO'd,
CubicleJOT